Here is Calderdale Council's latest recycling newsletter, covering April and May.
Welcome to the Easter 2023 edition of the Waste and Recycling Ezine.
You can check your collection days, sign up to
the email reminder service and download your collection day calendar Here
Upcoming Bank Holiday collection dates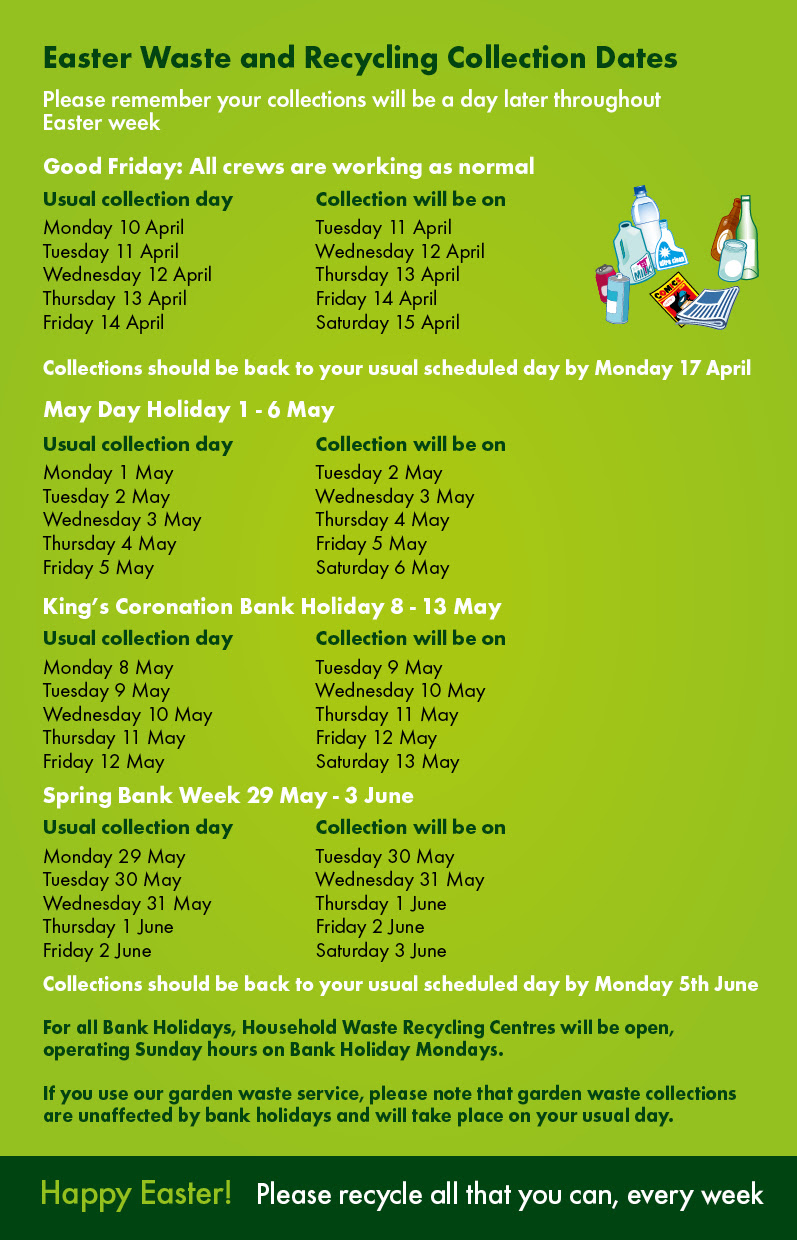 Garden Waste Collection Service
The Garden Waste Collection Service is fully subscribed and we can't take any new subscriptions at the moment. If you would like to join our waiting list, please complete the Expression of Interest form here and we will get in touch with you when a place is available.
If you are an existing subscriber, you will be sent an email reminder when your renewal is due, please do not try to renew before receiving the reminder. You can also check when your subscription renewal is due on the garden waste website.
Important changes to storage and disposal of Waste Upholstered Domestic Seating.
There is new legislation for the storage and disposal of upholstered seating, including sofas, chairs and beanbags. Waste Upholstered  Domestic Seating may contain Persistent Organic Pollutants (POPs). POPs are chemical substances that do not break down. If waste containing POPs is not managed responsibly, it could cause damage to the wider environment.
To comply with the legislation, at our Household Waste Recycling Centres (HWRCs), Waste upholstered seating must ONLY go into the correct, designated skips at:
Halifax HWRC
Brighouse HWRC
Todmorden HWRC
This type of waste can no longer be accepted at Sowerby Bridge or Elland HWRCs, as there is not enough space for an extra skip.
Waste Upholstered Domestic Seating includes:
Sofas, sofa beds and armchairs
Upholstered kitchen and dining room chairs
Home office chairs
Stools and footstools
Bean bags, floor or sofa cushions
Futons
For further information on this legislation, please see Here or visit Guidance (GOV.UK)
Bulky Household Waste
If you have bulky items for collection, they must be outside and accessible at the time you place your order, as collection can take place at any time from your order being made up to 28 days. order a bulky item collection